Latest News
19/09/2019
---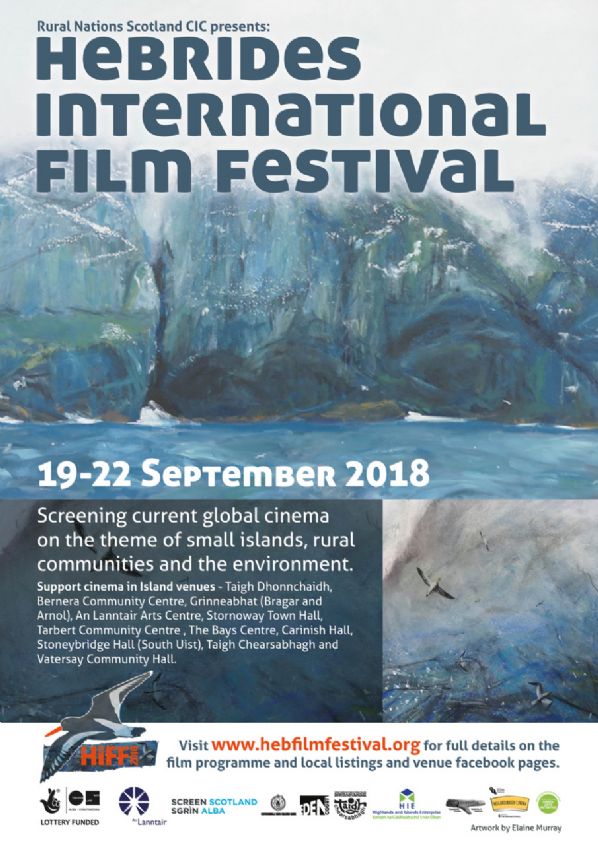 Fifth Hebrides International Film Festival gives pause for thought over scale of island development. If the Hebrides International Film Festival does anything this year, it will hopefully "make us pause for a minute and think about what we are doing to the planet and the island".
That was the message from film festival curator Muriel Ann Macleod on today's opening day of the festival (Wednesday, September 19).

The fifth Hebrides International Film Festival is taking place in venues throughout the Outer Hebrides from now until Saturday (September 22) – and Muriel Ann said it raised "important questions locally", such as whether we were "really doing enough to preserve the seas of the Hebrides".

Muriel Ann, director of the Rural Nations Community Interest Company, was speaking from Brussels, where she is representing the Outer Hebrides as part of the Reclaim the Future project, part-funded by Creative Europe.
She said: "I've brought our short exhibition environmental film Eve v Lucy and the Harris Carnival banner representing the islands. But of course I'd rather be in Lewis for the opening of HIFF on Wednesday night. I'm really pleased with the festival.

"This year we engage with cultural diversity with films like Lerd – A Man of Integrity, as well as strong environmental films like Blue and A River Below, with questions asked around the importance of the environment next to big business and the driver to make money.

"These are important questions locally. How many wind farms do we need when we could have solar farms or wave power?
"If the film festival does anything this year, perhaps it will make us pause and think for a minute about what we are doing to the planet and to the island."

Three big wind farm schemes are planned for the Isle of Lewis – the Forsa development at Tolsta and Lewis Wind Power's Stornoway Wind Farm project and Uisenis scheme in Eishken. Lewis Wind Power is part-owned by French multinational EDF Energy and wants to be allowed to site offshore-sized turbines on land on Lewis.

The core of this year's film festival is the screening of current environmental documentary features such as Blue, which has been described by Greenpeace as "a cinematic song for our oceans". It was filmed in Australia, Indonesia, the Philippines, South Pacific and United States.

Similarly, A Plastic Ocean was shot over four years at 20 locations across the planet and shines a light on the plastic pollution crisis.

However, environmental questions relating to land also get the HIFF treatment, with Lerd – A Man of Integrity opening the film festival tonight in An Lanntair.

Lerd, which won the Un Certain Regard Award at the Cannes Film Festival, is about a gold fish farmer in a village in northern Iran, whose attempts to make an honest living come up against a corrupt system, where money and power beat environmental concerns.

The fish farmer finds out his neighbour has poisoned the water in a bid to get control of his land.

Muriel Ann said: "He wants to have something done about this but you learn that the whole society works on bribes and there's nothing he can do. It makes you reflect on your own society in a way. It shows that in small communities local people have no real say in how to control things…

"I thought it was interesting because of how unimportant the environmental issue was. It was about who owned what and who was making money."

All the films on the Hebrides International Film Festival have been chosen because "they are the best from current world cinema", having been made within the last three years. Many are award winners and all are high quality.

There are approximately 26 feature films on the programme and there will be a total of 56 screenings across the venues over the four days, with each screening including a feature film and an accompanying short.

There are around 13 'shorts' on the programme including Cianalas, by young Hebridean Zoe Paterson Macinnes, and MS, Mexico and Me which tells the story of Aileen Hunt who travelled from her home in Uig to Mexico for stem cell treatment, in a bid to halt the progression of multiple sclerosis.

The Hebrides International Film Festival is supported by Creative Scotland, HIE and other agencies and presented in collaboration with An Lanntair.

The festival has a broad theme of "islands, environmental issues and indigenous peoples" and a particular focus on the "ocean" theme this year, although it always includes a variety of genres, so there is art, comedy and children's film as well as drama and documentary.

By Katie Laing
---
07/09/2018
Fifth Hebrides International Film Festival from September 19 to 22nd 2018
---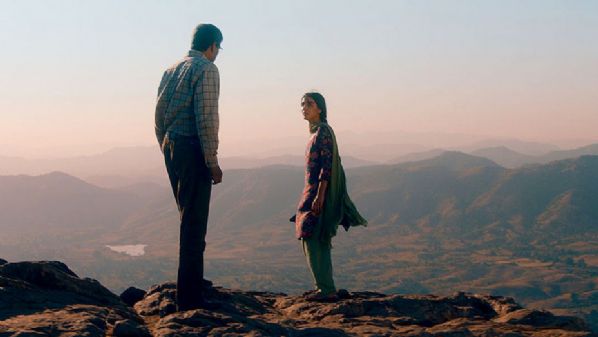 (Image:What Will People Say)
Final preparations are underway for the fifth Hebrides International Film Festival – taking place throughout the Outer Hebrides from Wednesday, 19 September to Saturday, 22 September.
The festival, which is supported by Creative Scotland, HIE and other agencies and presented in col-laboration with An Lanntair, has developed into a high-quality event, which brings the latest in world cinema to the islands.
Only films made within the last three years are eligible to be included in the programme, which is curated by Muriel Ann Macleod, director of the Rural Nations Community Interest Company, with the support of Paul Taylor, the cinema programmer at Eden Court Theatre.
All the films being shown fit within the festival's broad theme of "islands, environmental issues and indigenous peoples" and this year there is a particular focus on the "ocean" theme.
Although there are variety of genres in the programme – including art, comedy, children's film, drama and surf film – there is always a strong element of documentary or political and environmen-tal commentary, and two of the biggest films this year document what is going on within our oceans and rivers. In particular, the global environmental crisis of plastic pollution.
One of the headline documentaries, Blue, has been described by Greenpeace as a "cinematic song for our oceans; beautiful, intimate and grand" and was filmed in Australia, Indonesia, the Philip-pines, South Pacific and United States.
Similarly, A Plastic Ocean was shot over four years at 20 locations across the planet and documents how wildlife – and people – are living among the toxic refuse.
As well as having been made within the last three years, all the films on the programme are chosen for their high quality and many are award winners.
There are approximately 26 feature films on the programme and there will be a total of 56 screen-ings across the venues over the four days, with each screening including a feature film and an ac-companying short. There are around 13 'shorts' on the programme including Cianalas by young Hebridean Zoe Paterson Macinnes, which is currently being well received.
The films are a mix of English language features and foreign films with full English subtitles. The full programme is available online now – at www.hebfilmfestival.org – and tickets can also be bought through the website by following the links to the Eventbrite marketplace.
For festival films that are being shown at An Lanntair, tickets are available via their website (not Evenbrite) – at lanntair.com – and they also have a series of free films on in their Pocket Cinema.
In general, tickets can also be bought at venue doors, although it is advisable to book in advance for the smaller venues, where space is more limited. Tickets are priced £7 adults, £5 concession and £4 for under-16s, with a season ticket for £50 which allows entry to everything.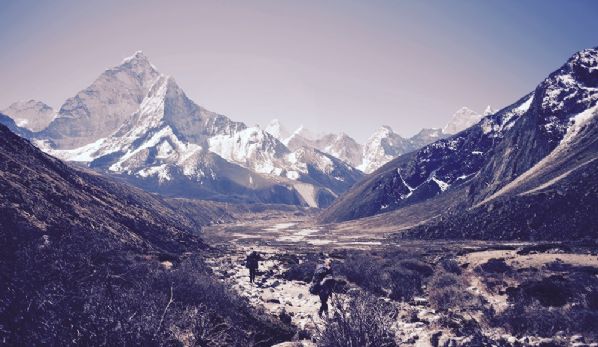 (Image: Mountain)
There will also be special daytime screenings for school groups and a number of masterclasses from film makers, as well as environmental lectures and a beach clean. Full details of the masterclasses and lecturers are also available on the website.
Programmes are also being printed and will be widely distributed.
The Hebridean International Film Festival grew out of a programme started by Regional Screen Scotland five years ago, where a number of remote and rural film festivals were given three-year funding and mentorship. It was also a natural successor to the Hebrides Coastal Film Festival.
For programmer and director Muriel Ann, her original involvement came out of wanting to make a shift from theatre into filmmaking.
"For me, it's been an education in what cinematic film is and what a good quality film is. You know that these films can make change. We've seen it. It's gobsmacking when you screen these films and people coming out, saying, 'What?! – I never knew any of that!'
"So what a fantastic thing to get to do. People need to know what's happening in the world and these current films show you. That's the bottom line."
Follow the Hebridean International Film Festival on Twitter @HebIntFilmFest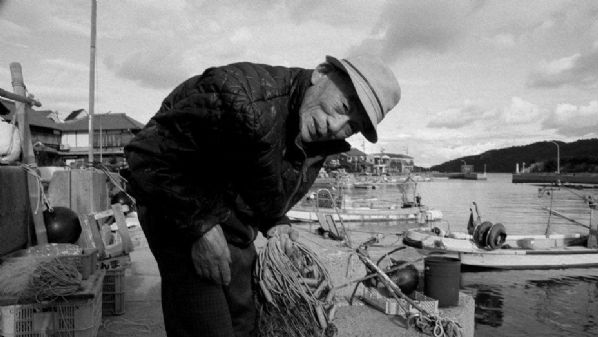 ---
25/08/2018
HIFF will run between Wednesday 19th- Saturday 22nd September 2018.
We're delighted to have several highly anticipated environmental features coming to the festival this year, including BLUE an Australian documentary by director Karen Holden.
BLUE is a cinematic song for our oceans; beautiful, intimate and grand. Fearlessly truth-telling, yet passionately hopeful. See this film and you will want to rise up with the waves."
— GREENPEACE AUSTRALIA
Find out more about the film and how you can take action here. Screening details for HIFF will be announced shortly.
---
21/10/2017
The HIFF team were very sorry to hear about the sad passing of film maker Roger Stotesbury whose short film Hand Woven Lives screened at the Hebrides International Film Festival in September 2017. The film was made on the Isle of Lewis with local residents in 2016. At this time Roger attended HIFF 2016 contributing to our masterclasses and formation of a film collective. He presented his film to us for screening at the 2017 festival, where it was very well received by locals who appreciated seeing local stories captured sensitively and portrayed beautfully in the short doc which screened throughout the islands venues.
We would like to thank Roger for his contribution to film, for capturing our lives here and sharing this with the world, and for his enthusiasm and appreciation for the Hebrides.
Offering condolences to his family and friends, and hoping you will enjoy watching the film below as a lasting legacy of his ability to connect with people.
Read more about Roger's film making at Cut to the Doc.
---
17/10/2017
A big thank you to our volunteers, industry guests, venue partners, local promoters, technicians and audiences for a great 2017 festival!
---
30/08/2017
HIFF 2017 PROGRAMME LAUNCHED
Our full festival line up is now available online. View our programme online.
24 features, 17 shorts will be screened across Uist, Harris, Lewis and Barra in 4 days between 13th-16th September 2017.
---
18/07/2017
HIFF 17 DATES ANNOUNCED
We are pleased to announce that the Hebrides International Film Festival will take place between 13th and 16th September 2017 across venues in Lewis, Harris, the Uists and Barra.
Submissions of short and feature films for consideration in the programme are welcome until August 2017.
More details coming soon.
---
29/12/2016
HIFF 2016: How did it go?
We've completed the report on last years Hebrides International Film Festival and have collected the feedback from the festival into pictocharts. Take a look and see how HIFF went this year:
---
20/10/2016
And that's it folks...
Thanks to everyone involved for a great festival! Dates for HIFF 2017 will be announced at the end of October.
---
29/08/2016
Lesions in the Landscape - Sgoran san Àrainneached

'The past existing as a space you can't enter or feel –
the future a space you can't imagine.'
Claire
We are delighted to be able to include visual art exhibition Lesions in the Landscape in our programme of events this year. Showing in Taigh Chearsabhagh arts centre in North Uist over the duration of the festival ( 14th - 17th September 2016) this powerful new multi-screen installation explores the impact of amnesia and the erasure of individual and cultural memory.
The project by by UK/Danish artist Shona Illingworth
reveals the devastating effects of amnesia on one woman and the striking parallels with the sudden evacuation of the inhabitants of St Kilda in the North Atlantic in 1930, the work examines the profound effect and wider implications of memory loss on identity, space and the capacity to imagine the future.
In collaboration with neuropsychologists Martin A. Conway and Catherine Loveday, Illingworth has worked with and filmed Claire, who, following a trauma to her brain can no longer remember most of her past, create new memories or recognise anyone – not even herself. However the new sensory operated camera technology worn around her neck can help reactivate access to some of her 'forgotten' memories, in rare bursts of intense recollection.
Located on the shoreline of a marine Special Area of Conservation in Lochmaddy, North Uist, Taigh Chearsabhagh Museum & Arts Centre is open 10am -4pm Monday-Saturday during the festival.
Take in this thought provoking visual exhibit for FREE at the centre and enjoy the local arts & crafts shop, cafe and museum also on offer.
Heading to Uist for the exhibition? See what else is on in the area.
Find out more about the exhibition and artist on the Taigh Chearsabhagh website.
Download a PDF version of the Lesions in the Landscape brochure using the link below:
Library folder shown here
---
27/08/2016
We're on the look out for volunteers.
Monday 12th - Saturday 17th September 2016

Opportunities available In Lewis, Uist, Barra and Harris.

Flexible hours between 11am to 11pm each festival day.
Love film?

Want valuable experience for a career in film, TV or events?

Interested in environmental issues?


Help us share the stories, spread the word and celebrate drama & documentary from around the world as part of the team behind the Hebrides International Film Festival 2016.

A typical volunteer day could include steward duties at An Lanntair Arts Centre, or one of the rural Island venues.
Filming around our venues and interviewing film makers.

Supporting and manning the free Pop Up Cinema in Stornoway town centre between 10am & 5pm.

Assisting with the interactive film displays and information desk in An Lanntair foyer during the Festival days.


Helping look after our visiting film maker guests.

And the chance to sit in on some great cinema.

Training will be given in all aspects of the volunteering activities.

All volunteers will receive a FREE FESTIVAL PASS to attend any of the screening and masterclass events on offer at HIFF 2016.

For further details and to register your interest in volunteering with HIFF 2016 please contact us via email:

muriel@ruralnations.com
---
15/08/2016
Vanishing Sail UK Premiere at HIFF 2016
Award winning Caribbean feature Vanishing Sail will make it's UK premiere at this years Hebrides International Film Festival.

A story of the last traditional boat builder on Carriacou, West Indies. The film follows a struggle to keep traditions that were originally brought to the Caribbean from Scotland in the 18th century alive- with the help of the next generation. Following the story of Alwyn Enoe, one of the last boat builders on the island, as he sets out to build one last sailing sloop with the hope that his sons will continue the trade.

"If this thing gone from here, everything gone you know..." – Alwyn Enoe, Master Boatbuilder

Justin Sihera, the films producer, will visit the Western Isles in Scotland for the premiere which will take place simultaneously at 8pm on Wednesday 14th September in Stornoway at the award winning arts centre An Lanntair and one of HIFF's rural venues in Berneray, Isle of Lewis.


The film won the Directorial Discovery Award at Rhode Island Film Festival where it premiered in the US last year, and has been acclaimed at festivals throughout the Caribbean region and US.

Alexis Andrew's, the films director, had this to say about opening the festival,

"Many of the first boatbuilders on the Caribbean island where Vanishing Sail was filmed, came from Scotland so we were very excited when Rural Nations invited us to open their 3rd Hebrides International Film Festival. We were inspired by their commitment to bringing meaningful international stories to their remote islands... it struck a chord with our outreach programme for the film: to engage with sailors, boat builders, coastal communities and maritime heritage around the world."
With the help of Sail Stornoway HIFF 2016 will open with a parade of sail to celebrate the premiere, filling the harbour in Stornoway with sailing craft including traditional sailing vessels from the Western Isles region.


The film will screen a further 3 times during the four day festival in local community venues on the Isle of Barra, Isle of Harris and village of Ness in the north of the Isle of Lewis.

HIFF are proud to present the film for it's first UK outing,
'Vanishing Sail speaks directly to our festival's island and environmental themes, as well as Rural Nations wider aims of presenting and conserving traditional island cultures. Alexis and his team have crafted a beautiful, intimate story infused with Grenada's island culture and stories. We encourage local audiences to come out and enjoy the film's opening night celebrations.'
Vanishing Sail premieres at 8pm on Wednesday 14th September 2016 in An Lanntair arts centre, Stornoway. Please see our brochure for the full programme of screenings.
Tickets will be available to book on line from mid august for all the film's screenings.
Find out more about the film on their website.
---
09/08/2016
Our programme has just launched! Click here to get a downloadable pdf copy.
Our web version will go up shortly, but for now enjoy your first look at the full programme of film, animation, documentary, events and guests for this years Hebrides International Film Festival.
---
09/08/2016
Official Programme Launch and UK Premiere for HIFF 2016
Rural Nations Scotland CIC is proud to present the programme for this year's Hebrides International Film Festival 2016: Islands and Environment.
We are pleased to be partnering with An Lanntair Arts Centre who will be our hub for this year's festival, screening our entire programme across its main auditorium and newly launched Pocket Cinema.
HIFF prides itself on it's mission to engage rural communities throughout the islands, and this year will be no different bringing a breadth of cinema and film maker guest speakers to communities throughout the Outer Hebrides with screenings in Lewis, Harris, Uist and Barra over the four day festival from the Wednesday the 14th to Saturday the 17th
September.
The film festival has attracted films from around the world, and we are thrilled to announce that this year the screenings will include a UK premiere.
Award winning, Caribbean produced film Vanishing Sail will open the festival with it's UK premiere, which will take place simultaneously in our An Lanntair and Berneray venues on Wednesday 14th September at 8pm.
Producer Justin Sihera will travel to Stornoway for the screenings.
The opening of the HIFF festival and premiere of the film on our shores will see the town harbour filled with sailing craft in a parade of sail arranged with the help of Sail Stornoway.
Many of the first boatbuilders on the Caribbean island where Vanishing Sail was filmed, came from Scotland so we were very excited when Rural Nations invited us to open their 3rd Hebrides International Film Festival. We were inspired by their commitment to bringing meaningful international stories to their remote islands…

Alexis Andrews, Director
This years festival can boast a similarly exciting line up of contemporary, award winning environmental features and documentaries. As well as a great selection of shorts, from both seasoned and emerging film makers from around the world.
From Norwegian blockbuster The Wave to newly released family film Swallows & Amazons. International success story Hunt for the Wilderpeople and hard hitting documentaries The Messenger from the US, Fire at Sea from Italy and The Islands and the Whales from Scotland just for starters.
There's plenty of ways to get involved with the festival this year, with environmental themed events and talks arranged in collaboration with the North Harris Trust, RSPB Scotland and local businesses.
As well as free archive screenings from the National Library of Scotland's Moving Image archive bringing a look at island life as it was.
Our special guests this year will include Loic Jordain French film maker and his latest release The Turning Tide In the Life of Man for a masterclass in long form documentary. As well as award winning Canadian director Charles Wilkinson who will join us from Vancouver for a discussion on his approach to green film making with his feature doc Haida Gwaii.
Our full programme is now available to download.
Tickets will be bookable via the An Lanntair website from mid August.
For Further information please contact: Aidan Nicol, Assistant Producer Rural Nations Scotland CIC: anicol99@hotmail.com or Muriel Ann Macleod, Festival Director/ Programmer on muriel@ruralnations.com
---
07/08/2016
SURFS UP at HIFF 2016
We're excited to be screening films from all over the world as part of this years programme, all giving us a unique view on aspects of island life.
The sea and our relationship with it is a constant theme of life on an island, and to explore this during HIFF 2016 we're delving not only below the water to take a look at environmental issues but celebrating those who seek to ride the waves.
We'll be enjoying surf culture with two very different short films The Accord (Iceland) and Caste a Wave (India).
The surf culture in Iceland is very small, as RC Cone, Director of The Accord explained:
The culture is so small! I have a hard time imagining everyone in California who identifies themselves as a surfer but, in Iceland, you can meet all of them. Just wait for the swell to line-up! All 20 of them will be there! It's a cool community that has something very special on their hands.
The film features the role of the North Atlantic Wind as a main character - presenting the wind as a drunken, beer swilling, bearded Icelander who switches temperament wildly -disrupting our adventurer's plans.
The controlling nature of the wind is something we in the Outer Hebrides could certainly relate to, and gives this film an intersting theatrical element.
The character of the wind and the story of the film evolved on the hoof as the film maker and main character, Iceland's only professional surfer Heiðar Logi Elíasson travelled around with a camera and an idea. They explain how they went about making the film:
I spent 10 days in Iceland with Elli and Heidar in September 2015, that's when we did the majority of our camping, adventuring and, most importantly, writing. We actually shot a bunch of narrative scenes that we totally scrapped, for example: we ended up re-shooting the wind's scenes to get his character better and weave him more into the story.
Find out more about The Accord on their website. Or watch the films trailer:
And look out for the short film as part of our programme at An Lanntair.
Caste a Wave is an eye opening documentary about learning to surf, love the ocean and protect our beach environments set in India.
The word "surf" originated in India in 1599, yet surfing has only existed there for the past ten years.
In the film we meet Brad Gerlach, professional surfer and world-renowned surf instructor, who's appeared in over 50 surf films and videos. He partners with Mumu's Surf School in Mahabalipuram to coach Indian surfers using his WaveKi on land mind and body movement system to over come their fear of the ocean.
Find out more about this technique on the WaveKi website.
Director of Caste a Wave Fancy Fechser spoke to us about making the film and what he hopes to achieve through it's story.
What was most challenging about shooting the film?
Arranging to shoot a film in India was quite a challenge. We were lucky to bypass having to obtain permits for filming.

We also worked with a our own film crew and a crew from Mumbai. That helped tremendously with translation in addition to many other important aspects of filming in India. We were very lucky to have a crew from the US and a crew from India.
What are you hoping to achieve with the film's story?
We hope that this film reaches audiences and sparks minds to care about the surroundings in which they dwell.

Often times we forget the impact we have on the places we love the most.

The beaches in India are often forgotten due to a lack of connection with the ocean and fear.

We hope to inspire future generations to develop an interest in the environment around them and enjoy it by interacting with it.
Caste a Wave is set to screen in An Lanntair, Castlebay, Berneray, Ness and Harris throughout the festival, dates and times announced on the 9th August in our full programme. Watch the trailer here:
If these films inspire you to try hitting the waves, why not check out Hebridean Surf - based in Lewis they offer tuition for first time surfers as well as equipment hire.
The Hebrides actually offer a relatively warm option thanks to the North Atlantic Drift Current and of course a spectacularly rugged atlantic coastline with numerous empty beaches and a fine selection of renowned reef breaks - pollution free, and washed twice daily by the 5 metre tides of the North Atlantic ocean.
---
03/08/2016
Eich Bhàna- Celebrating Emerging Artists at HIFF
Alison Macpherson created this short film as her graduate film for Edinburgh College of Art, and we're delighted to be screening it as part of this years HIFF festival. It centres around our part of the world in the West Coast of Scotland, which is always lovely to share with locals and visitors alike.
Eich Bana, a gaelic title, meaning White Horses revolves around the story of a fisherman struggling with his fears and with a feral horse stranded on a small island.
The film looks at themes of isolation in rural environments.
'wilderness can be both isolating and liberating'.
A sentiment I think most islanders can relate too.
Alison is currently studying animation and is an enthusiastic musician, she enjoys working in 2D with traditional mediums which we see so beautifully in this film.
You can view more of her work and illustrations on her website.
It has b
een difficult to find Gaelic films within the last 3 years to include in our programme, something which we are hoping to address during our local island film consolation as part of the festival.
It would be wonderful as gaelic speaking islands to be able to showcase more of our language through film, and this is something we hope to see more of in future years through support of local film making and development.
---
02/08/2016
SHORTS SHOWCASE - THE ORPHAN AND THE POLAR BEAR
Over the next few weeks we'll be showcasing some of our short film selection for this years festival in the lead up to our full programme launch.
The Orphan and the Polar Bear (2015) is an animated short from Taqqut Productions in Canada. We'll be screening this beautifully made film in Ness & An Lanntair in Stornoway during the festival, with times and dates available in the programme launching at the end of this week - so stay tuned.
Director Neil Christopher gives this account of the film on profestivalscope's website.
This story has been shared for generations in the High Arctic. It begins with a picture of the hardships of life when you don't have a family. However, the story quickly changes to one of survival, kindness, and hope. As we explore this traditional Inuit folktale, we move across snowy winter landscapes of the lands at the top of the world.

THE ORPHAN AND THE POLAR BEAR is a story filled with magic, and it provides a glimpse of the traditional beliefs of Inuit people. In this world, many of the ancient animals lived as Inuit did. As well, these beings could assume human form whenever they wished. But, just as the world climate is changing and the ancient glaciers are melting, these stories are being forgotten. THE ORPHAN AND THE POLAR BEAR is a celebration of these old memories.


Taqqut Productions is an Innuit owned production company, proud to present the stories of the North to the world through their unique perspective.
The production company is based in Iqaluit, in the territory of Nunavut in Canada.
The name Iqaluit means place of many fish - it's been used as a fishing place by Inuit for thousands of years.
The city possesses a polar climate, influenced by the cold, deep waters of the Labrador Current just off Baffin Island.

The film has won 9 awards at festivals around the world, check out the Taqqut website to see some original illustrations from the book of the story.
---
31/07/2016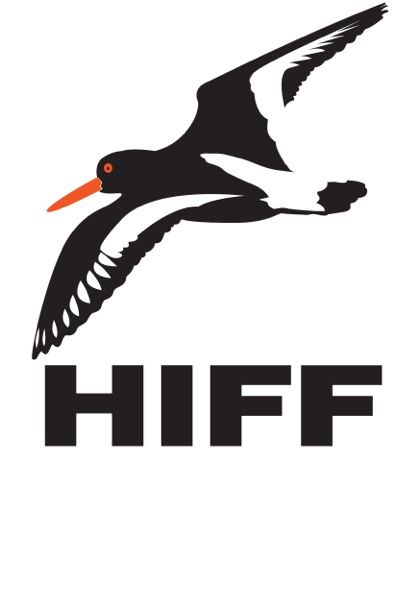 We are pleased to say our programme is nearing completion- and we'll be launching our full programme on 9th August.
In the mean time, look out for sneak previews of our shorts programme on our facebook page .
Under our theme of islands and environment HIFF will be screening world cinema from small islands across the globe and a selection of award winning environmental documentaries and dramas. Ranging from UK premiers at An Lanntair to archive footage at our pop up cinema in Stornoway to schools screenings in community centers and feature presentations at rural venues across the Outer Hebrides.
We can promise a fantastic line up of film, and more ways than ever to get involved outside the cinema- boat trips, environmental talks,walks, film consultation and film makers masterclasses.
Our annual photography competition has launched this weekend and we're looking forward to receiving some outstanding entries again this year within our theme 'A unique perspective on the seas of the hebrides'.
---